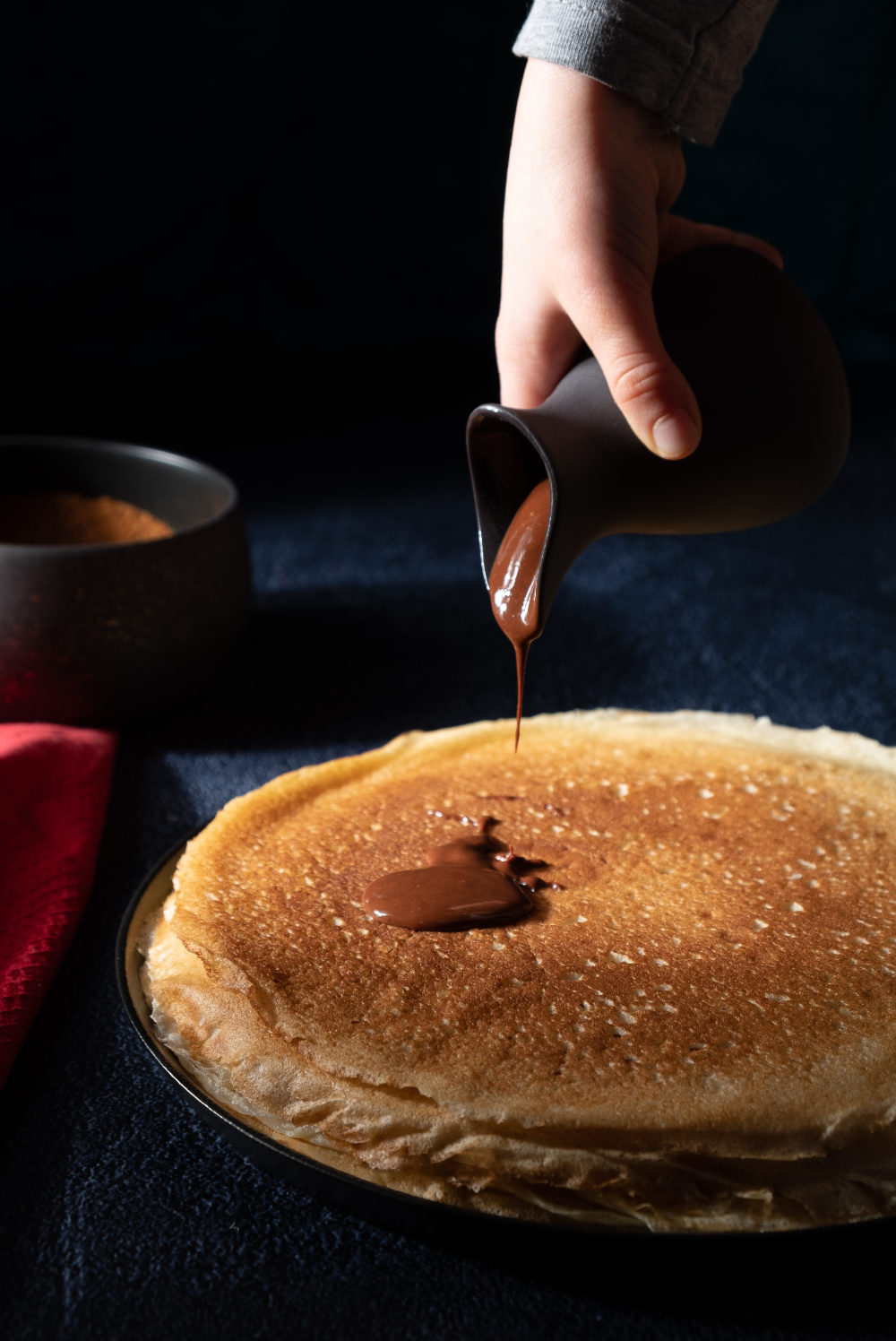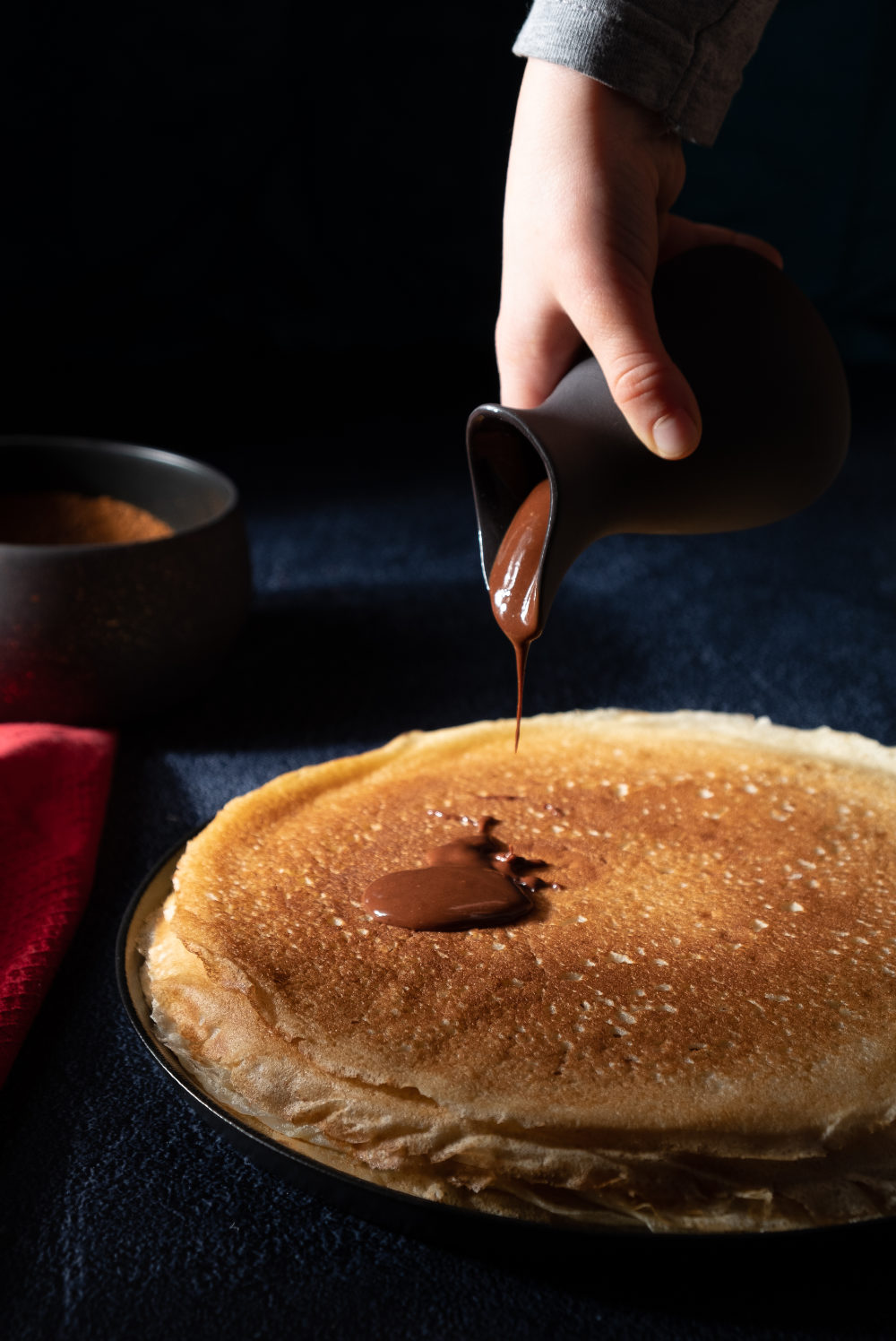 It's been a while since I wanted to try making gluten free crepes. But with each new recipe I tested, I was not satisfied with the final texture … Using only starch, the result was a very strange texture with an unpleasant mouthfeel and flavour.
But this weekend, I had the idea to reduce the weight of starch with brown rice flour, the result is worth sharing this recipe with you!
100 g   13,5%    Eggs (approx. 2 pieces)
26 g      3,5%     Oil of your choice
92 g      12,5%   Corn starch (gluten free)
74 g      10%      Brown rice flour
420 g    56,8%   Milk
26 g      3,5%     Caster sugar
1,5 g     0,2%     Salt
Instructions :
Mix all ingredients together and then blend with a hand blender to ensure there are no lumps.
Leave to rest for 30 minutes before cooking on a hot saucepan.
It is not completely necessary to rest the batter before use. The batter will just be a little thinner than usual.
To cook well the crepes the secret is by heating well the saucepan and to have a nice flat pan.
If the saucepan isn't hot enough the batter will just stick to it.
Pour the batter into the saucepan, and almost immediately start to unstick the edges of the batter. After about 30 seconds, take an edge and turn the crepes.
I love (unless it's my kids who prefer!) to make a large recipe and leave between two plates in the fridge.
I prefer using brown rice flour because of its glycemic index which is lesser than that of white rice flour.
If you only have white rice flour it will still work, but in my various experiences I find that the white absorbs more liquids than the brown.
It is possible to change to the oil of your choice, a vegetable oil or grapeseed oil for less flavour.
If you want to you can also change the oil to butter.
To make a lactose-free recipe you can also change the milk for a vegetable variety (almond or oatmilk for example).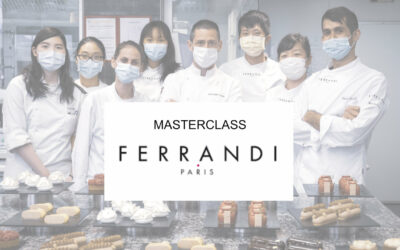 Richard Hawke present a masterclass withinternational students in FERRANDI PARIS. The theme was totally vegan and gluten-free pastries, a very broad topic for a 2-day
masterclass.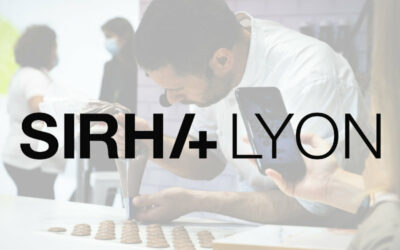 Flashback to my amazing experience in SIRHA 2021 …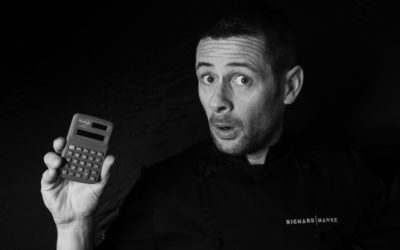 We all have our different techniques, habits and preferences when it comes to cooking or pastry. For me, I live to work and talk in percentages for my recipes. So, in mine, each weigh has a percentage of the total weight. There are numerous advantages. For example,...